Improve the design
Based on the objective trees, model library elements and P&IDs, the overall functional model of the plant is established. This is a relatively easy work process and is typically done in 6-12 weeks for a medium size processing plant.
Once the model is in place, we start to run our unique Casual Mode Reasoning producing the causal mode graph. In short this graph shows all failure modes that have been included and the propagation path through sensors, actuators, psv (passive safety valves) to consequence. As this graph shows all failure modes and all consequences we have developed reports and different ways of visualising this many to many graphs, to simplify the complexity for human use. The different user interfaces we have made are designed to help optimize different parts of the design and operation. To simplify the understanding of the graphs we have created a common graphical language. First all graph start with root cause (on the left hand side) and passes through the different sensors, actuators etc. and ends up with consequences on the right hand side. Symbols and color coding are also important.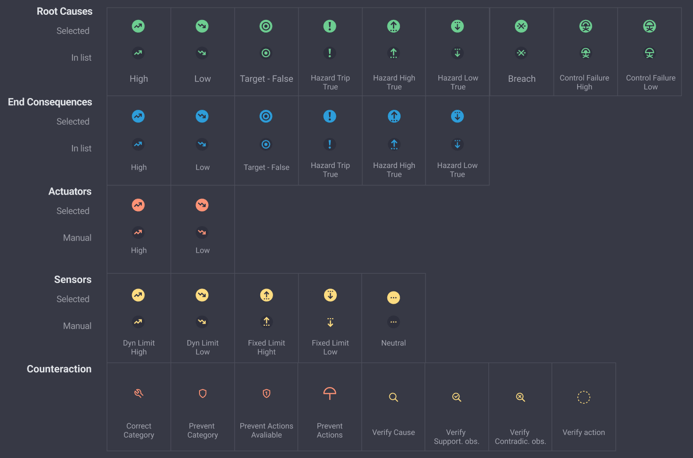 This figure shows the legend for all of the following graphs
P&ID view
The P&ID view is based on displaying the graph on top of the provided design drawing with tools for filtering on root cause and consequence. The P&ID (or PFD in early design stages) has been selected as the main process design drawing which both projects and operations can easily relate to. The tool will provide instant recognition and display complex relations. Typically used during design reviews and HAZOPs (HAZard and OPerability).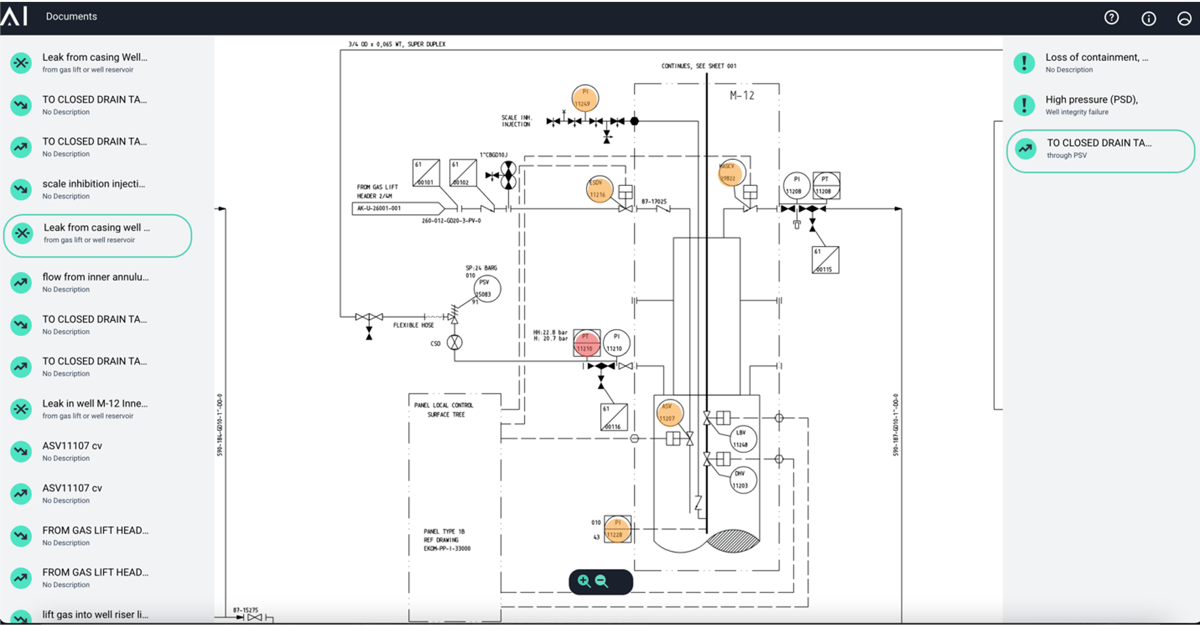 P&ID view
Selecting a root cause (left column) will filter down the consequences (right column) to the ones related to the selected cause. When selecting one of the resulting consequences, the view will highlight the sensors, actuators and other safeguards such as PSV (Pressure Safety Valve) or rupture discs affected.
Fault Tree Analysis view
The tree view has been created to visually illustrate how scenarios develop. Starting with the root cause (failure mode) on the left hand side and illustrating how the fault propagates towards the right through sensors, actuators and other field equipment until a consequence occurs. Manual verification steps may also be added if the sensor precision or coverage is not sufficient to uniquely identify the root cause. The graph may be used in different modes:
Failure mode selected - Show how a failure propagates and corresponding consequences. Excellent for assessing risk of a failure. Also useful when planning maintenance work to understand how critical the work order is.
Consequence selected - Show which initiating events or failure modes can result in the selected Consequence. Useful to add human mitigations and update operational procedures.
Alarm Management - Show what root cause the sensors will point towards with corresponding consequences.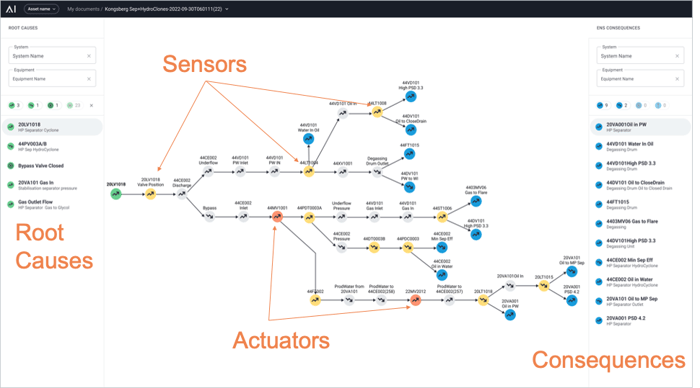 Tree view
Sensor coverage
The sensor coverage view shows how well the sensors are able to uniquely detect a root cause. The sensors are listed in a tabular view showing if and how they will react to each root cause or consequence. Typical use cases:
Remove instrumentation that is redundant
Add lacking instrumentation for better coverage
Add sensor redundancy for critical consequences
Add manual inspection points to achieve unique detection
Alarm Management verification: Support to optimize the number of configured alarms on Control system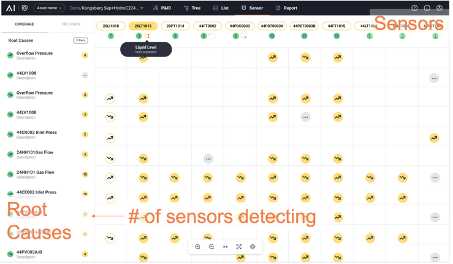 Sensor coverage
Sensor precision
The sensor precision graph is used to indicate how unique the detection of the potential failure modes for the plant is. I.e. how well will this combination of sensors be able to distinguish one or more root causes. This information is vital to understand if unique detection is possible for current level of instrumentation. If the pattern of sensors points to the same root cause, no operator, no algorithm and no machine learning will be of use without adding information. The missing information may be collected manually from the plant maybe by a field operator or using drones or robots for remotely operated plants.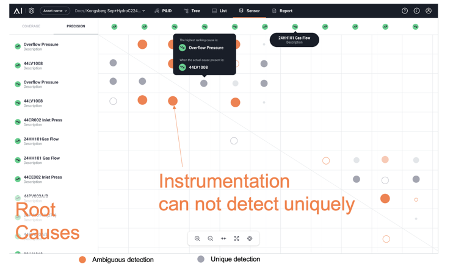 Sensor Precision
The orange points indicates root causes without unique detection. I.e the results when trying to find the reason behind a deviation will be ambiguous. Sensors should be added or moved if we are in a design phase. During operation, field operator observations should be used in addition.
HAZOP analyzer
If we think about the huge multi dimensional graph connecting all root causes through instrumentation to consequences, the above views has been developed to make it more easy to read and use during design and operation.
In some cases it is useful to export the graph into a line by line table. The table can be filtered and be used to find specific relations during design, operation and for alarm management
Examples of filtering during design (or HAZOP) may be:
Root causes and consequences without any safeguards
Root causes and consequences where manual intervention is needed.
During operation:
Root causes and consequences that may be affected by a specific sensor failure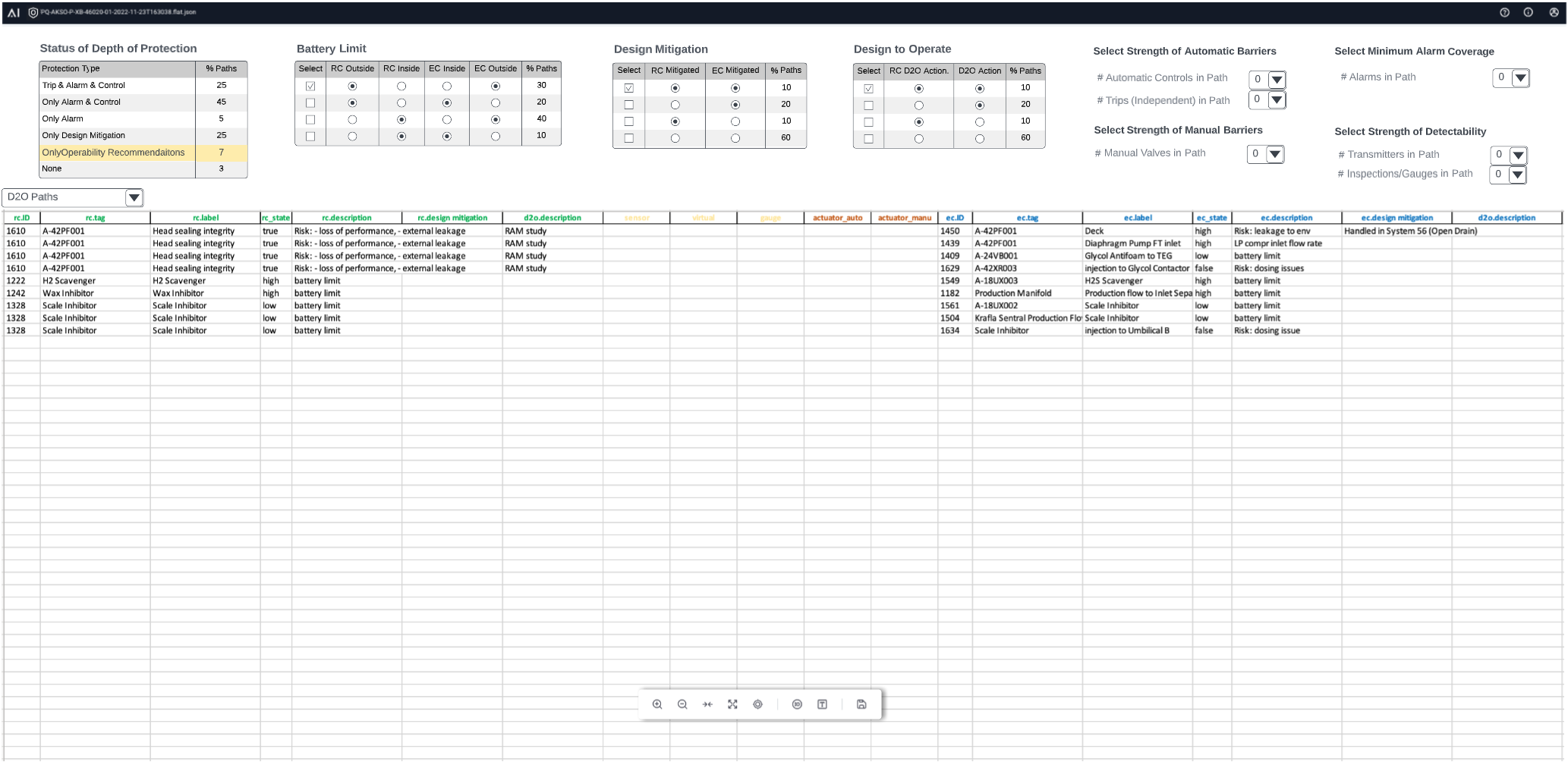 Report view
The data can also be exported to Microsoft Excel for further analysis.

We're also open to develop new views towards your specific needs.