The Human Decision-making processes
Management of situations in complex system involves two overall phases of decision-making, each with a number of subtasks.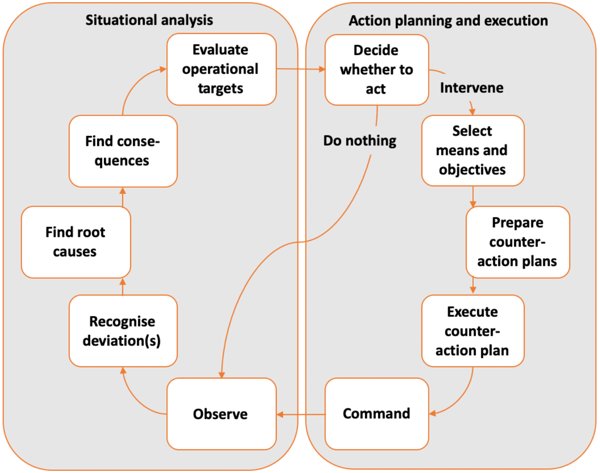 (Source: DTU Electro)
Rational decision making starts with access to observable information from the plant and the ability to recognize and analyse a deviation from normal operation. This includes the identification of possible root causes and prediction of consequences of the disturbance. Furthermore, the possible consequences are evaluated in view of the operational targets to determine if counteraction is needed. If a decision to act is taken, the next decision is to select the means and objective of counteraction, to prepare a plan, and finally to execute the plan.
Humans tend to bypass these principles of rational decision-making by making shortcuts in the sequence.
The shortcut is an efficient way to act in situations that have been seen often before. The human recognises the pattern and swiftly moves to the appropriate action. But in other less frequent situations, the lack of informed decisions can lead to suboptimal operation, and even to shutdowns or disaster. The pattern was perhaps not quite the same, or could be completely new, and as such the shortcut taken by the operator was ineffective due to cognitive bias or lack of knowledge.
This is why we have developed Kairos Control Room Assistant, which assists operators with situational awareness through the entire rational decision-making process.