Our office in Lyngby, Denmark (by DTU) is enjoying the internship with Mercedes Belda Ley from Spain, sponsored by Kairos' collaboration partner Vysus Group.
Mercedes holds a Bachelor's Degree in Chemical Engineering and she is doing an internship with Vysus and Kairos for 6 months to elaborate her Master Thesis while supporting the development of the HAZOP Assistant. Her main work is the Integration of current functional modelling (MFM ) use towards Process Hazard Analysis, more specifically, to assist HAZOP procedures.
Clients that are enjoying new plant insight with help from the Digital HAZOP process, driven by innovative SW solutions through Kairos explainable AI functional modelling, can expect new improved features that simplifies the data analysis and improves efficiency, ensuring a safer and more effective approach to risk management and operability engineering.
Driven by our collaboration, the main goal of the Digital HAZOP is to provide an efficient, systematic approach that will reduce time spent on hazard identification and evaluation while increasing accuracy and safety. Traditional HAZOP studies often face challenges such as being time-consuming, reliance on expert judgment, and difficulties in addressing complex interactions between various process variables and components.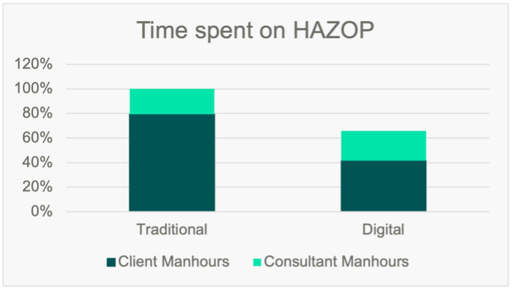 The Digital HAZOP process is structured to ensure a consistent, standard approach that will provide the best possible results. The methodology begins with a review of existing engineering documentation followed by functional modelling of the system under study. The process is broken down into systems and components with built-in failures modes.
The team utilizes a specially designed software tool called HAZOP Assistant for the analysis and pre-workshop preparation. This automated system helps to identify potential hazards that may have been missed during manual reviews and significantly reduces the time spent on HAZOP workshops for identification and evaluation.
About Mercedes:
Mercedes is doing her Master's Degree in Chemical Engineering, by Universitat Politècnica de Catalunya (UPC), with focus on Green Chemical Process Engineering. Deeply interested in risk analysis, she started taking courses in order to gain solid ground knowledge about the topic a few years ago. Growing from personal interest and reinforced by her Master studies, she has become aware of the urgent need for safer and more sustainable industrial practices given the current worldwide population increase and the constant technological advances. She strongly believes the blending of software and risk analysis possesses potential to provide remarkable tools that will be capable of contributing to satisfy existing and future social and industrial requirements.