Kairos Technology offers ground-breaking Artificial Intelligence (AI) products for improving the operations and performance of complex process plants. By means of Multilevel Flow Modelling (MFM) we digitalize the deep engineering and operational expertise that exists for the plant to make sure it is available to operations when needed.
Kairos Control Room AssistanT
Kairos - Control Room Assistant (CRA) will always be on alert and immediately present the root-cause, its consequences, and recommended counteractions behind an abnormal situation. The objective for Kairos CRA is to make sure that the operator is assisted with cause/consequence information on relevant observations during operation.
Kairos CRA shall be an early warning assistant, but at the same time not disturb the operators with unnecessary alerts or information.
Correct instrumentation
Behind the result presented in Kairos CRA, is the mapping of possible root-causes and the corresponding consequence relations for the plant.
When we have built a model for the asset, we are able to extract possible root-causes for the plant process (which is a limited manageable number), and map these in a couple of different tools developed.
The safeguard mapping tool presents possible root-cause (x-axis in figure below) and map them towards the sensors (Y-axis in figure below) accordingly, all from your plants' process design. This gives a good indication of how detectable the root-cause is.
With this plant insight, plant-engineering have the opportunity to verify all possible failure causes and check if they have too much or too little instrumentation for safeguarding.


Optimising the level of instrumentation will ensure that root-causes are detectable and may also be used to reduce the number of sensors. This impacts the lifecycle cost of the plants, as too many sensors drives CAPEX and OPEX.
verify operational procedures
The Causal Mode Graph tool ("fault tree") has been developed to map all possible consequence "path" the plant failure (root cause) can escalate into.
As for example, below is an overview of how the plant will react for each particular root-cause (as our technology models the physical behavior of the plant), and maps a total path to the possible consequences. We will also know the escalations (changes to the process variables) through the causal path.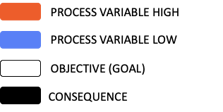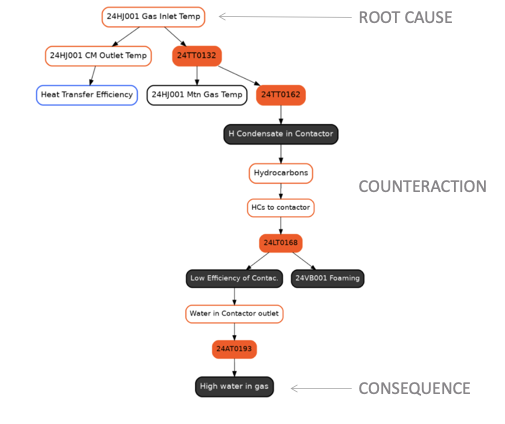 With the insight from the causal mode graph tool, Kairos gives immediate advise on what is about to happen. The tool is used to introduce counteraction and to verify operational procedures. The counteraction will guide operators on intervention steps to prevent that the root-cause escalates all the way to the consequence.
With the total plant modelled, we can also group all the causal mode graphs into the plant function where they will have an impact.
This insight may, as an example, be used to add counteractions for optimizing (reducing) energy consumption, and in turn CO2 emissions. To learn more about how these new features may be used, please contact us.
Take the survey below to see if Kairos can add value to your asset: